And so begins the first step on my journey through death metal's beginnings and trenches, I have decided to take on a project that I wanted to share with all of you. I will be working my way through every death metal release I can find since the very beginning to not only listen to but to review. The purpose of reviewing the albums is to keep track and create a focus on taking the time to truly appreciate the music that I am exposing myself to.
I hope all of you bear with me as I try to fumble through this and forgive me in advance for skipping most demos and many EPs (I would end up trapped in 1988 and 1989 otherwise). In trying to map out an order for albums to review became fairly difficult as release dates for many albums especially early on I was sometimes only able to narrow down to a month or in many cases only a year. This being said, I will review albums in order of specific dates I was able to find and in the cases I was only able to determine the year that they were released those albums will be at the end. Many of these bands I've been listening to for a number of years as well have been lucky enough to see perform, there are many albums I'm looking forward to re-hashing and attempting to look at from a slightly different perspective for the purpose of this project as the eyes of a reviewer which I have never done before. More than anything however and what I expect to do more of; I am looking forward to this as a learning experience and self discovery, to submerge myself completely in a genre that I have cherished for years to discover new music within its past and learn more about my own tastes and preferences as well.
Please feel free to comment, rate and debate the reviews and the albums that I post. I would love the company along the way for this journey :)
Without further preamble, lets bring on the brutal.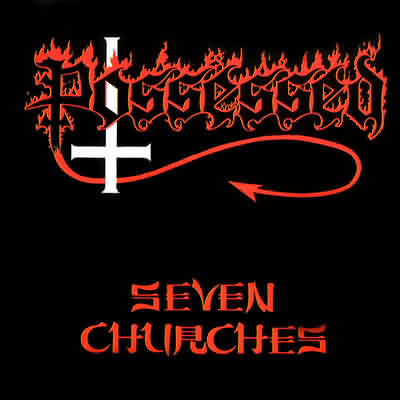 POSSESSED - SEVEN CHURCHES - OCTOBER 16, 1985
Seven Churches was the thrash metal album that became too dark to be considered
just
a thrash album. It sets the mood at the offset with the iconic 1973 horror classic Exorcist intro that explodes into a fury of speed leaving a listener curious as to what precipice they will take you next. They seem to set themselves apart from their thrash predecessors and the music that was being created at the time from other bay area bands through the guttural vocals of Jeff Becerra that beckon you to join the depths of hell Possessed discovered, that although at times seem overshadowed by the instrumental, you can tell he sets a stage and a base for death metal vocalists to draw influence from for years to come. I find the biggest difference instrumentally from the thrash metal that had been released prior was the tempo and the fact that it seemed to go everywhere and unpredictably so. At moments I felt as if I was trying to connect the dots within the song structure. I'm not sure if this is due to the fact that the production was fairly raw but it seemed like the transitions between riffs and the instrumentals finding a balance just wasn't coming together in a few places and took time to find its way, although when it made its way there (which it always did) it did so not with a wimper, but with a bang. That being said, the place where the music found the perfect balance throughout the album was its variety between its almost explorative nature on where you can tell the artists were testing their boundaries instrumentally.
The lyrical content is as haunting as the wails of moaning demons that you hear at the beginning of the song "The Pentagram". A good summation of the lyrics and messages trying to be portrayed throughout the album as could be inferred and felt by a listener is being inevitably pulled into the depths of hell, a place where illusions, nightmares and demons meet and what lies there. I find it a shame that the vocals seemed over shadowed at times when more attention and emphasis should have been on the lyrics rather than the need to focus on the curve balls that were thrown at such a rapid speed instrumentally. I can't even fathom what it must have been like to hear material like this for the first time in 1985, its raw and unsettling in all of the right places and was the perfect seed to unearth and begin this journey with.
Stand Outs: Fallen Angel, The Exorcist, The Pentagram
Rating: 8.5/10